What is National Cancer Survivors Day
When is cancer survivors day?
National cancer survivors day is celebrated in the first week of June and it is a holiday. The day is celebrated mainly in the United States of America but now it is spreading all over the world.
National cancer survivors day history
National cancer survivors day event was introduced by Merril Hastings on the second meeting of the Coalition for Oncology Survivorship at Albuquerque, New Mexico on twentieth November 1987. The first national cancer survivors' day was held on fifth of June 1988.
This event is organized and managed by National Cancer Survivors Day Foundation. Up till now twenty three national cancer survivors days are celebrated.
Now more health organizations, hospitals, cancer specialists, oncology research centers and cities are taking part in organizing this day. The specialists give valuable speeches this day, which is important to increase the awareness about cancer, how it can be treated and prevented.
This day is celebrated through carnivals, parades, musical concerts, fundraising, contests, quizzes, art and cultural exhibitions, etc.
In fact more countries are taking part in observing this day. These countries include Canada, Netherlands, Russia, Malaysia, India, Australia, South Africa, Italy, etc.
Cancer survivors ribbons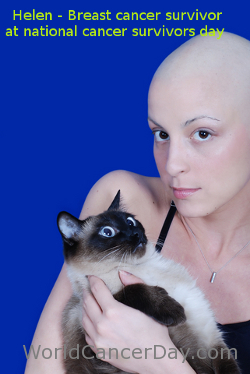 The purple bracelet and purple cancer awareness ribbons attached to your clothes are the signs of cancer survivors. You can even ask breast cancer survivor and other activists online if you have a questions.
Cancer survivors network
Cancer is spreading like fire in this world now. In the United States, every single day four thousand people are diagnosed with cancer. There is not a particular group of people who can take part in this event. Whether you have survived from cancer, watching a loved one who has this disease or just hate this disease you are invited and take part in this event.
Those individuals who have survived this disease should specially come and share their experience and story with everybody else as they will become an inspiration for others. Them available for help at cancer survivors network.
There are even many people who have succeeded in defeating the cancer in their bodies. Due to new technologies, medical researches and advancements, the number of cancer survivors has increased all around the world. They wish to celebrate their achievement and so national cancer survivors' day is a perfect chance for them to celebrate with their loved ones.
On the other hand, those who are diagnosed with cancers, are going through the treatments or are at the last stages of this disease should also participate in this event because they would like to enjoy and spend quality time with their families and friends.
Join this peoples on national cancer survivors day events, your support is very important for them and helping other peoples know more about this deadly disease!
See video from cancer survivors day 2012 :